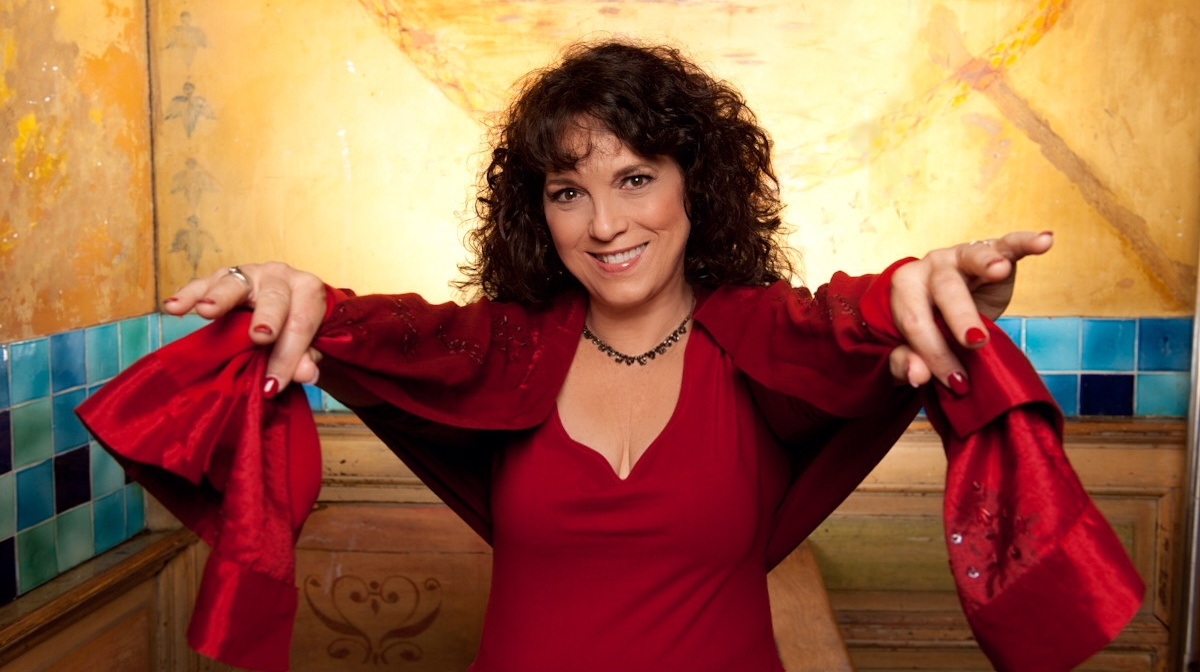 | | |
| --- | --- |
| Klik voor Nederlands: | Contact by email |
MUJERES DE LUNA - Women in Cuban Music
A musical program about the great female composers of Cuba
Cuban vocalist Estrella Acosta went on a search in the rich and beautiful musical history of her motherland. She discovered new and original music composed by women. Estrella presented these songs on her tour of the Netherlands, the country where she lives and works for many years, with imaginative arrangements in a new and contemporary instrumentation. In Mujeres de Luna, Estrella Acosta and her top Latin jazz group, together with the all female Pavadita String Quartet, give the audience a unique perspective on these talented women of Cuba. 'How great - this concert takes you to a world made by women' said Mijke Loeven, now director of the Bimhuis in Amsterdam, at the premiere in May at De Doelen. From 2 October 2017 on, the autumn tour of ten concerts took place in The Netherlands.

Female Cuban composers as source of inspiration
"Women always played an important role in Cuban music, but outside of Cuba their contribution as composers and singer-songwriters has often been neglected," says Estrella Acosta. Over the years they have provided outstanding and essential contributions to this rich history.
During the concert Mujeres de Luna we see where their music comes from and how the composers developed their own style and career. Estrella: "With this homage I would like to encourage all women to also follow their own path and realize their ideals."
About Estrella Acosta
Estrella Acosta has long been an advocate of Cuban music in the Netherlands. Born in Havana, she got to know the traditional music during her childhood with her family in the province of Matanzas. After studying anthropology in Austin, Texas, she followed her musical dreams on a journey that took her to Mexico City, Rio de Janeiro, New York and finally to Amsterdam, now the home base for her musical travels in Europe and America.
Mujeres de Luna - Women in Cuban Music
Estrella Acosta (voice), Marc Bischoff (piano, musical director), Efraim Trujillo (sax/flute), Samuel Ruiz (double bass), Enrique Firpi (drums), Pavadita String Quartet: Claudia Valenzuela (violin), Sophie de Rijk (violin), Maria Sofia Espiga (viola), Eva van de Poll (cello)

The program consists of pieces by Maria Cervantes (1885-1981), Maria Teresa Vera (1895-1965), Margarita Lecuona (1910-1981), Teresita Fernández (1930-2013), Elda Carrillo (1933-2009), Marta Valdés (1934), Liuba Maria Hevia (1964), Lázara Ribadavia (1966) en Yaima Orozco (1980).
The new arrangements for this line-up were written by Hilario Durán, Marc Bischoff and Michael Simon.

TOUR DATES 2017 (click on the theater for tickets)
| | |
| --- | --- |
| Fri 26 May (evening) | De Doelen, Rotterdam |
| Mon 2 October (afternoon) | Concordia, Enschede |
| Sun 8 October (afternoon) | KAF Theater, Almere |
| Sun 15 October (afternoon) | De Harmonie, Leeuwarden |
| Thu 26 October (evening) | Theater De Kom, Nieuwegein |
| Sun 29 October (evening) | BIMhuis, Amsterdam |
| Fri 17 November (evening) | Theater De Willem, Papendrecht |
| Fri 24 November (evening) | Theater Griffioen, Amstelveen |
| Sat 2 December (evening) | Agora Theater, Lelystad |
| Fri 8 December SOLD OUT! | Ostade, Amsterdam |
| Fri 15 December (evening) | Theater Ludens, Voorburg |
The tour Mujeres de Luna - Women in Cuban Music was made possible by the Performing Arts Fund FPK

Press contact: Marjolein van Ruiten, PR(at)marjoleinvanruiten.com