MARIA TERESA VERA
The grand lady of Cuban music
Singer, guitarist and composer María Teresa Vera was my inspiration for the Mujeres de Luna project. The first time I heard her recordings I fell in love with her voice, the way she delivered her songs and of course the compositions themselves. One of her trade marks, just like great  jazz singer Billie Holiday, is that she always made spontaneous variations to the melodies of these songs, giving them a creative and personal touch.

Born in 1895 into a poor family in Guanajay, a small city in the province of Pinar del Rio in the west of Cuba, she learned to play guitar and to sing from a cigar roller named José 'El Negro' Diaz. In 1911, when she was 16 years old, she performed for the first time in Havana. She quickly became a professional musician and songwriter, and a very popular one - and that during the early 20th century, when such a career was virtually unheard of for a woman. She sang trova, a rural folk song style that predated the son, and her fame as a trovadora has endured to this day. She helped lay the foundation for the explosion of Cuban music in the '30s and '40s.

María Teresa was discovered when she sang the song Mercedes by Manuel Corona which became an instant success - the first time she sang it in the theatre the audience demanded her to repeat it six times. She traveled to New York as early as 1918 to perform and record with the first of several duo partners, Rafael Zequeira, at the Apollo Theater in Harlem. They made at least five trips there and recorded hundreds of tunes, but most of those have not survived. It is hard to believe, but these records were made in the days of acoustic recording, when you had to sing into a big horn to make a needle scratch the sound waves onto fragile discs, that were later reproduced and played on a wind-up phonograph...
She also performed in duo formation with Manuel Corona, later with Miguelito Garcia and finally with Lorenzo Hierrezuelo, with whom she sang for more than 25 years.

She was a true pioneer. In 1926 she was the first woman to lead a band (with for the rest only male musicians) which she named Sexteto Occidente (western sextet). This name came about because she started a new way of playing the son, a musical style that was originated in the eastern province of Cuba, Oriente. Her way of playing the son was named Son Habanero. In her band played the famous composer, bassist Ignacio Piñeiro. They quickly caught the attention of the record label Columbia, which soon gave her the contract to record with her band in New York. They had great success, both in Havana and in New York.

María Teresa retired in 1962 due to illness and passed away three years later, yet her status as one of Cuba's greatest female singers has lasted until today. Her fame as a trova singer lasted well after the style was eclipsed by other popular styles and her songs continue to be recorded by musicians all over the world. Her signature tune, Veinte Años, has become a standard.

She inspired many musicians and also many poets. Cuban poet Nicolás Guillén  wrote this beautiful poem inspired by María Teresa Vera (English translation below):

Guitarra 

Fueron a cazar guitarras
bajo la luna llena
y trajeron ésta,
pálida, fina, esbelta,
ojos de inagotable mulata,
cintura de abierta madera.
Es joven, apenas vuela.
Pero ya canta
cuando oye en otras jaulas
aletear sones y coplas.
Los sonesombres y las coplasolas.
Hay en su jaula esta inscripción:
Cuidado: sueña.
________

Guitar

They went out hunting guitars
under the full moon
and brought back this one:
pale, elegant, shapely,
eyes of inexhaustible mulatta,
a waist of open wood.
She's young, she barely flies.
But already she sings
when she hears the flutter
of sones and couplets
in other cages.
The somber sones and the lonely couplets.
There is this inscription on her cage:
Beware: she dreams.

We play (and recorded) Esta Vez Toco Perder from 1914, with lyrics by Emma Nuñes, and Dime Que Me Amas with lyrics by her foster sister Guillermina Aramburo.
- Estrella Acosta, June 9, 2017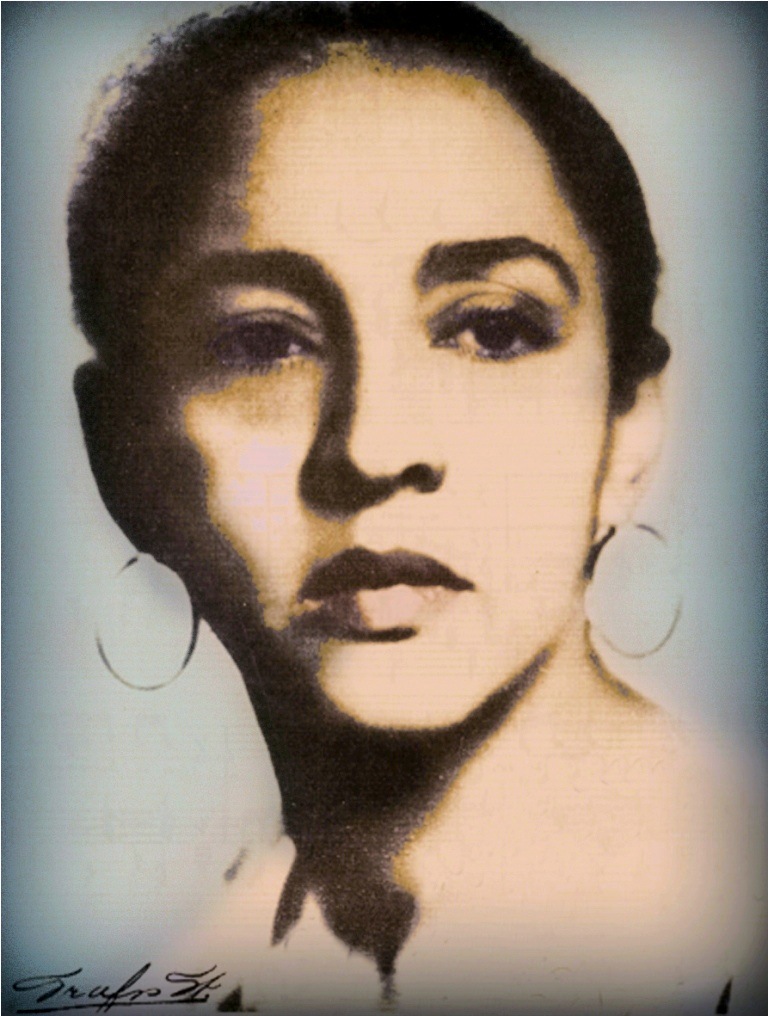 MARGARITA LECUONA:
"Por el corazón, por la mente, por la voluntad, por el gusto, por mi vida toda, la música"
Tonight, as the full moon shines into my living room, I reflect upon the beautiful lyrics of Margarita Lecuona's song Eclipse.
In this song Margarita compares the suffering the loss of a love would bring to the feeling of sadness caused by the absence of light on the sea, when the Earth comes in between the Sun and the Moon. She says that just the thought that this could ever happen makes her despair.

Eclipse de luna en el cielo
ausencia de luz en el mar
sufriendo de amargo desvelo
mirando la noche me puse a pensar...

This song, amongst the most popular in the later years of her career, was premiered in 1943 during a tour she made around Brazil, and to me it seems she was influenced by the music she heard around her over there. Eclipse since then has been recorded by several Brazilian artists like Ivan Lins, João Gilberto and Nana Caymmi, and by many other Latin American musicians.

Born in Havana, Cuba, Margarita was a guitarist and vocalist, and the composer of more than three hundred songs. She was also a professional ballerina, choreographer, dance teacher, and an actress, but at one point in her multifaceted career she chose to dedicate herself exclusively to her music. Coming from a wealthy family (her father was a Cuban consul in NY, Spain and Portugal), she got to travel the world at an early age, which added to her great education and cultural experience.

One could say that she decided to launch her career as a musician at the right place and at the right time - in the 1930's, a moment when Cuban popular music was becoming famous outside of the island. With her guitar and voice and her great songs she conquered the music scene in Cuba and abroad. She sang her debut as a singer accompanied by her guitar, took place when she was 20 years old. She, like other composers of the early 1900's, took interest in the music of Cuba's African heritage and incorporated it in her music and lyrics. When she was in her twenties she already wrote two classics of the Afro-Cuban repertoire, Babalú Ayé and Tabú, that gained worldwide fame.

Around these songs and many other compositions, she put together a theater show in which she participated as singer, director and designer. Afterwards, the famous singer Miguelito Valdés, Mr. Babalú, made that song internationally popular. At that moment, Margarita gained world fame, like few female Cuban composers of that time. Babalú Ayé, a song about the deity of the Afro-Cuban religion Santeria, quickly became famous in Hollywood, in movies and later on American television, as interpreted by Desi Arnaz in the 'I Love Lucy' show.
One of her great hits, Tabú, was premiered in 1934 by Italian/Spanish singer Eugenia Suffolli with arrangements by Gonzalo Roig accompanied by the Symphony Orchestra of Havana. In Europe and USA it was played by many big bands and over the years it was recorded by performers as diverse as Artie Shaw, Bebo Valdés, the Kronos Quartet, Ska Cubano and the Tokyo Cuban Boys.

She married an Argentinian actor in 1947 and lived in Buenos Aires during the following eight years while touring around Latin America with her band, the 'Lecuona Cuban Girls', formed in 1942 and made up of her and two singer/guitarists, Coralia Burguet and Alicia Yanes. The name mirrored that of her distant cousin Ernesto Lecuona's band, the 'Lecuona Cuban Boys', which played extensively in Europe and made Margarita's songs popular on that continent.
After touring in Latin America, she went back to Cuba for a while around the mid '50s and then moved to the United States around 1960, where she finally stayed the rest of her life.

Little is written about her later life. She was only 50 years old at the time she left Cuba, so there is no reason to think that she would stop singing, playing guitar and composing. However, I have not yet found any stories documented. I wonder what happened to Margarita Lecuona during the last years of her life. Was she eclipsed by the shadow of a lost lover? I will go on searching to find the answer to these questions and continue my story.

- Estrella Acosta, May 10, 2017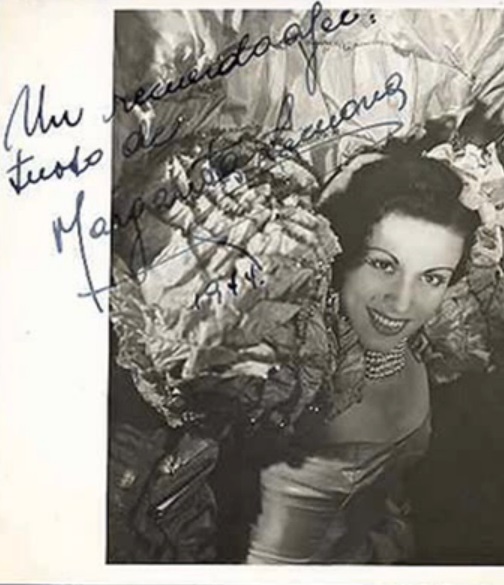 MARIA CERVANTES: "Music is my life"
While searching for Cuban composers born in the late 19th century, I was charmed when I heard a beautiful song in Spotify, recorded by pianist, composer and vocalist María Cervantes (1885 -1981), daughter of renowned pianist/composer Ignacio Cervantes. This recording was made in New York (1929) for Columbia Records. While reading about the successful career of Maria Cervantes, I discovered an emancipated, intelligent, talented, versatile woman, who was admired and loved by all. She was a pioneer for many female Cuban artists who have followed in her footsteps. She is a 'Mujer de Luna'.

The song that I discovered in Spotify, composed, played and sung by María, is 'Tus Manos Blancas'. Because of the wear and tear of the original 78 rpm, the lyrics were hard to understand. I asked a friend who was traveling to Cuba to look for the score. She found an old copy of the sheet music in Havana, made pictures with her phone, and brought them back to to the Netherlands. I finally understood the lyrics to this beautiful song and recorded it.

María grew up surrounded by music. She always knew she was an artist and started to play the piano when she was barely 3 years old. She could hardly reach the pedals, but when she heard music that she liked, she would rush to the piano and play it.
She studied piano from a very early age with her distinguished father and with other great piano teachers. When she was 13 she performed for the first time at Teatro Tacón, today called Gran Teatro de La Habana. In 1927 she made her first recording in Havana and in 1929 she married and went to live in New York. During the two years she lived there she made 21 recordings for Columbia Records. Throughout her life she performed in both New York and Havana at the best clubs and theaters as well as Cuban television and radio. She continued to record for Columbia Records. For years, through her personal charm and her special charisma to interpret her songs, María received the admiration and love of the public.

On piano María played the beautiful danzas composed by her father, and she also sang boleros, guarachas and sones. She had a very personal style that made you think of her ex-student, the great pianist/composer Ignacio Villa, better known as Bola de Nieve, who said that when she interpreted her hit song ¡A los frijoles, caballeros!, "a little black man climbed up her arm." María replied "Do you know that I am a great bongo player? And don't get me started on congas!"

¿Y qué me dice de Bola de Nieve? Él decía que cuando yo tocaba «¡A los frijoles, caballeros!» se me encaramaba un negrito en el brazo. ¿Sabe que soy tremenda bongosera? Y con las tumbadoras, ¡ni hablar!

María married three times. That was unusual for a woman at that time, living in a predominately Catholic country where divorce was a taboo. She was an emancipated woman who believed in her career and in her freedom, reason for which she divorced her second husband who was an extremely jealous man. She finally found her soulmate, married for the third time, and lived happily with him until he passed away.

After her last husband's death she retired for a while, but made a comeback in 1960 in a packed concert performance at the Fine Arts Museum. At that time she said: "I would have liked to retire from radio and theater, and for the public to remember me as I was, without glasses, grey hair, younger, but this was a second great debut that I do not regret because if I would have really retired, I would have died. Music is my life."

- Estrella Acosta, April 11, 2017